Top Escape Room Empfehlungen für Holland
Viele Fragen immer in welchem Land man noch Top Escape Rooms spielen kann. Wir können euch hier Holland für euren nächsten Escape Room Trip empfehlen. Kaum ein anderes Nachbarland von Deutschland bietet solch eine hohe Dichte an Top Escape Rooms mit kurzen Fahrtwegen, wie unsere Nachbarn an der Nordseeküste. Viele der holländischen Escape Rooms sind mittlerweile auch schon für Escape Room Fans in Deutschland ein Begriff. So sind schon seit Jahren The Girl's Room von Escape Room Nederland und The Vault von Sherlocked ein fester Bestandteil solcher Empfehlungslisten.
Veel vragen altijd in welk land je nog Top Escape Rooms kunt spelen. Wij kunnen Holland aanbevelen voor uw volgende Escape Room reis. Bijna geen enkel ander buurland van Duitsland biedt zo'n hoge dichtheid aan Top Escape Rooms met korte afstanden als onze buren aan de Noordzeekust. Veel van de Nederlandse Escape Rooms zijn al bekend bij Escape Room-fans in Duitsland. De Meisjeskamer van Escape Room Nederland en De Kluis van Sherlocked zijn al jaren een integraal onderdeel van dergelijke aanbevelingslijsten.
Was bietet Holland für Escape Rooms?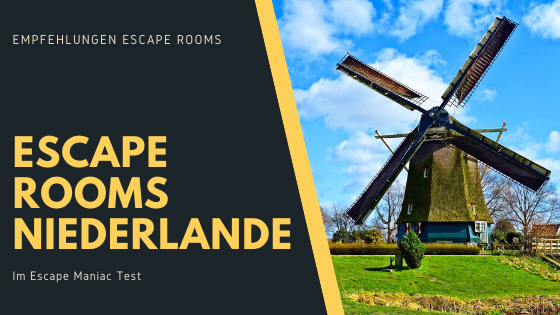 Holland bietet eine große Bandbreite an wirklich tollen Escape Rooms. Ihr findet hier Räume mit und ohne Schauspieler und von Horror bis Action. Wir haben mittlerweile 28 Räume in Holland gespielt und haben euch diese hier in einer Übersicht zusammen gestellt. Ihr findet hier Escape Games im Großraum Amsterdam, Rotterdam, Den Haag und Utrecht oder auch Escape Räume direkt an der deutschen Grenze in der Nähe zu Aachen.
In den Niederlanden haben wir auch unseren ersten Escape Room gespielt, welchen wir jemals 10 Punkte gegeben haben. The Dome von Escape Room Nederland solltet auf keiner Liste fehlen für einen Escape Room Trip durch Holland.
Die meisten Escape Rooms in Holland sind auf auch auf Englisch spielbar und Teil davon auch in deutscher Sprache.
Diese Escape Rooms haben wir in Holland gespielt:
Weitere nützliche Seiten für Escape Rooms in den Niederlanden:
Solltet ihr hier immer noch nicht genug Räume gefunden haben oder unsere Reviews evtl. zu einseitig sein. Dann schaut doch gerne auch einmal bei EscapeRoomers.de vorbei, hier findet ihr auch eine große Liste mit aggregierten Bewertungen diverser Spieler:innen inkl. der von mir und Malte.
Eine weitere gute Quelle für Escape Rooms in Holland sind folgende zwei große holländische Review Seiten:
Willst du mehr von uns lesen? Dann folge doch Escape Maniac auf Facebook.
Mitspieler findest du in unserer Escape Maniac Gruppe auf Facebook.
Klick hier um zu sehen, wo sich der Raum auf unserer persönlichen Toplist befindet.
Was sind eure Top Escape Rooms in den Niederlanden? Lasst es uns gerne in den Kommentaren wissen.