Behind the Door #3 – Team X – Interview
German Version / English Version below
In unserem dritten Behind The Door Interview sprechen wir dieses Mal mit Marc vom Team X aus Köln. Team X ist eine Agentur für Zeitreisen, Quantenmagie und Abenteuer.
Erzähle bitte kurz etwas über Dich und deine Räume.
Mein Name ist Marc Hotz, ich bin Autor und leite seit 2015 die Agentur für Zeitreisen, Quantenmagie und Abenteuer in Köln, kurz: Team X. Meinen ersten Escape Room habe ich ca. 2013 gespielt. Und war sofort angefixt. Es war ein einziges Flow-Erlebnis. Und was man da noch alles machen konnte. Das war ja nur die Flucht aus einem Rumpelkeller mit irgendwelchen Rätseln gewesen. Aber wenn man witzigere Rätsel einbauen würde, Lichteffekte und tolle Deko. Mit Geheimtüren und vielleicht auch noch Soundtracks und Spezialeffekten und vor allem einer richtigen Story. Ich konnte quasi gar nicht mehr aufhören, Ideen zu sammeln – und als wir eines Tages zufällig über eine tolle Location gestolpert sind, war eigentlich schon alles entschieden. Zurzeit bietet Team X drei Live Escape Room Abenteuer: Die magische Bibliothek, in der sich bis zu 8 Spieler:innen der Prüfung zum Magier ersten Grades stellen. Das Zombie-Labor, in dem sie als Zeitagenten ein tödliches Virus vernichten. Und The Killer, unser neuester Raum, in dem eine Serienkillerin ihr sadistisches Spiel treibt.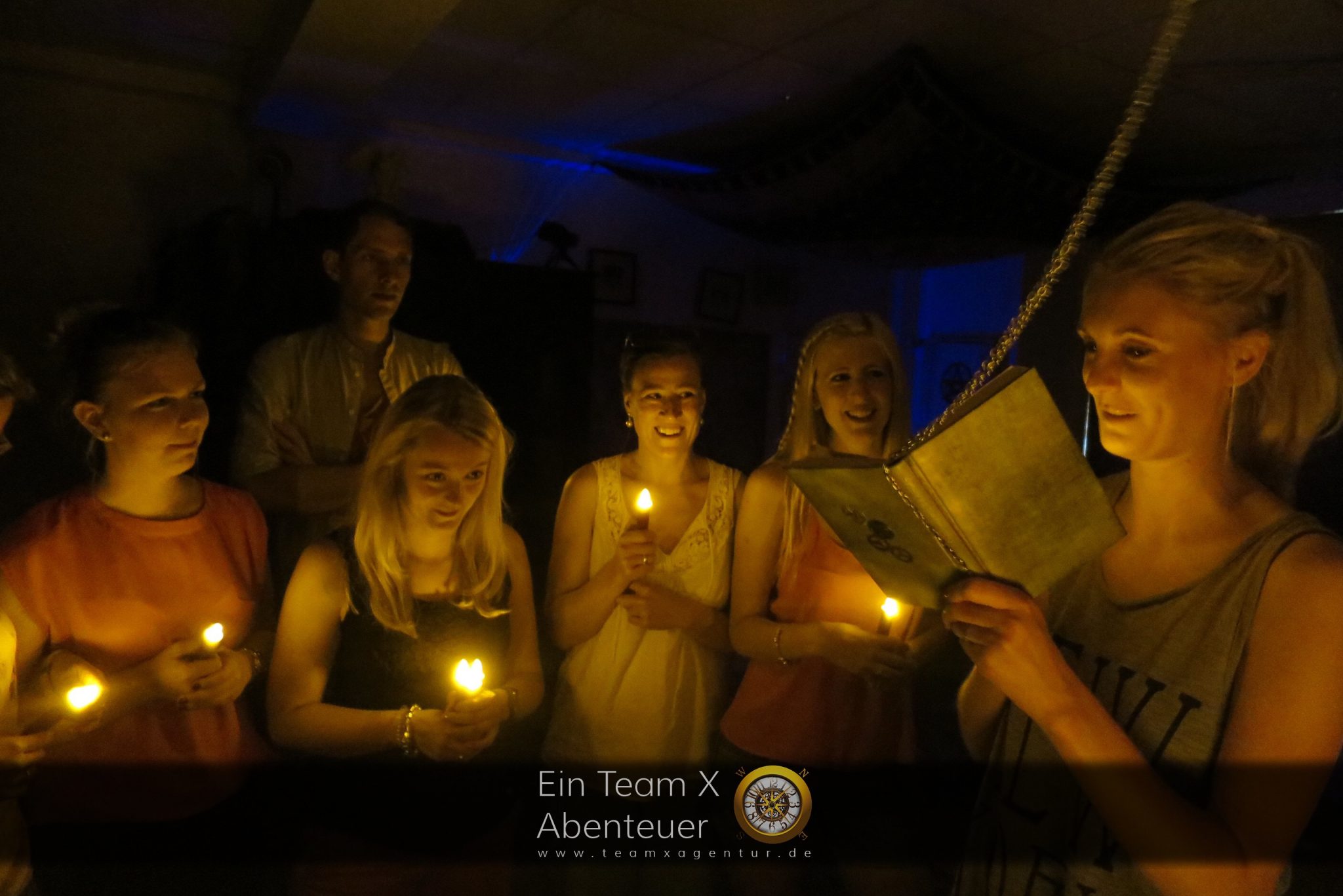 Was fasziniert dich an Escape Rooms?
Als Spieler:innen fasziniert mich, in andere Welten einzutauchen, Herausforderungen zu erleben, denen ich im Alltag nur selten begegne (zum Beispiel besagte Geheimtüren) – und mit Freunden zusammen zu sein. Im besten Fall ist es von der ersten bis zur letzten Minute ein Flow-Erlebnis voll Spannung, Aha-Effekten und guter Laune. Als Gestalter von Escape Rooms ist es fast noch aufregender (allerdings auch stressiger): Nicht nur, dass ich Geschichten erzählen, Emotionen hervorrufen und Menschen auf völlig neuartige Art unterhalten kann. Ich darf dazu alles von simplen Gags bis hin zu Hightech-Gadgets einsetzen, Social Engineering und Schauspieler nutzen, bestelle die bizarrsten Dinge im Internet und setze mich mit Fragen auseinander wie: Wie bringe ich meine Spieler:innen dazu, die Gasmaske aufzusetzen oder: Wie lege ich am besten Gehirne ein?
Wieviel Räume hast du schon gespielt und welcher Raum ist dein Favorit?
Um ehrlich zu sein: Noch nicht viele. Um die 10? Ich spiele aber wirklich gern – und unser Team macht regelmäßig Ausflüge zur Konkurrenz. Nicht um sie zu ärgern oder um sie zu kopieren, sondern weil wir sie kennen lernen wollen. Wir glauben, dass es in jeder Stadt mehrere gute Anbieter geben sollte. Wenn Gäste alle Team X Abenteuer gespielt haben, empfehlen wir ihnen andere Escape Rooms, die wir für gut halten. Dort können sie weiterspielen, bis wir neue Abenteuer entwickelt haben. Ich hätte gern, dass Leute genauso regelmäßig Escape Rooms spielen, wie sie in Konzerte, ins Kino oder ins Theater gehen. Das geht meiner Meinung nach aber nur, wenn es mehrere gute Anbieter gibt. Bei schlechten verlieren sie die Lust.
Was unterscheidet deine Räume von anderen Räumen und was hast du für die Zukunft geplant?
Bei Team X liegt der Fokus voll auf Abenteuer. Dazu gehört bereits die Vorbesprechung, in der unsere Gäste spezielle Fragen beantworten müssen, um sie einstimmen. Ebenso wie unsere Gruppen immer von einem individuellen Spielleiter begleitet werden (der in der Bibliothek sogar als Prüfungsaufsicht mit im Raum ist). So werden sie Teil des Abenteuers, anstatt einfach nur Tipps abzuspulen. Außer in The Killer sperren wir unsere Gäste auch nicht ein, denn unsere Missionen haben mit Ausbruch nichts zu tun. All unsere Rätsel sind lustig oder überraschend – und vor allem gar nicht so besonders schwer. Im Gegensatz zum üblichen Ansatz wollen wir nämlich, dass unsere Gäste die Abenteuer bestehen. Bei einem Film oder Theaterstück will ja auch niemand das Ende verpassen. Es tut uns jedes Mal leid, wenn eine Gruppe es trotz aller Hilfe nicht schafft. Dank unserer Spielleiter passiert das aber in nur 10-15% der Fälle. Die anderen schaffen es meist "gerade so". 10-15% glänzen. Und ca. 90-100% sind am Ende sehr glücklich. Ich hoffe, dass wir diese Werte halten können.
Was ist für Dich in einem Escape Room wichtig?
Letztlich ist bei einem guten Escape Room doch nur eins wichtig: Er muss Spaß machen. Ob die Ausstattung nun perfekt ist oder es technische Fehler gibt, finde ich gar nicht so wichtig. Bei so viel Komplexität passiert immer mal was. Und solange der Raum stimmungsvoll eingerichtet ist, kann man auch mit erstaunlich einfachen Mitteln viel erreichen. Am wichtigsten finde ich, dass einen die Rätsel und Aufgaben reinziehen. Und zwar auch Menschen, die keine Rätselfans sind. Und wenn man unterwegs noch ein bisschen Humor, Überraschungen und vielleicht sogar noch ein spannendes Ende mit Twist und Pointe hinbekommt, dann kann der Raum ja gar nicht so schlecht gewesen sein, oder?
Was glaubst du in welche Richtung sich Escape Rooms entwickeln werden?

Ich glaube, dass sich mit Escape Rooms gerade eine völlig neue Form der Unterhaltung entwickelt. Mit ganz eigenen Regeln und ungeahnten Möglichkeiten. In Zukunft würde ich das bei Team X gern noch viel weiter ausloten, um unseren Gästen ein noch tieferes Eintauchen und noch spannendere Abenteuer zu ermöglichen. Sei es mit größeren Gruppen, exklusiveren Settings, mit Schauspielern, Rollenverteilungen, ausgefeilter Technik oder auch nur einem besseren Wissen über die Psychologie der Spieler:innen und die Lenkung ihrer Aufmerksamkeit, wie beim Film. Die Möglichkeiten sind endlos und es gibt viel zu entdecken. Von kleinen Luxusanbietern, über künstlerische Erfahrungen wie im Theater, mobilen Escape Rooms, Horror-Hotels und großen Ketten und Massenanbietern für Spektakel-Events wird es vermutlich alles geben. VR glaube ich übrigens nicht dran, das ist eben doch "nur" VR und nicht echt. Außerdem wird mir davon immer noch schlecht. Wir würden aber gern ein bisschen AR einbauen.
Welchen Tipp hast du für Spieler:innen?
Je mehr ihr euch auf das Abenteuer einlasst, desto mehr Spaß habt ihr! Und kommt uns mal in Köln besuchen.
Website: www.teamx.koeln
Willst du mehr von uns lesen? Dann folge doch Escape Maniac auf Facebook. Danke!
Zu den letzten Behind the Door Interviews mit Chris von The Room und Heiner von Berlin Escape.
---
English Version
In our third "Behind The Door-Interview" we talk this time with Marc from Team X from Cologne. Team X is an agency for time travel, quantum magic and adventure.
Please introduce yourself and your rooms.
My name is Marc Hotz, I'm a writer and since 2015 I also operate the agency for time travel, quantum magic and adventure in cologne, also known as Team X. I played my 1st escape room in 2013 – and I was instantly into it. What a great kind of game! And all the possibilities. This first game I played was only some unconnected riddles in a run down cellar. But if you would add cooler riddles, lighting effects, soundtracks, better decoration and even secret doors and a real story. I couldn't stop collecting ideas for this. And when only a few months later we stumbled upon a really great location the decision to build the agency was already made. Right now Team X offers 3 escape room adventures: "The Magic Library", in which up to 8 players are tested for their magic abilities. "The Zombie Lab", in which they hunt for a deathly virus. And "The Killer", our newest room, in which a serial killer dominatrix plays her sadistic games.
What is the fascination with Escape Rooms for you?
As a player I'm always fascinated to dive into other worlds, to be confronted with tasks I usually don't find in real life (like secret doors) – and to be together with friends and get to know them in very intense situations. In best case it's a 60 minute ride full of laughter, excitement and revelations.
As a creator of escape games it's even better (though much more stressful): Not only can I tell stories and entertain in completely new ways. I also get to use high-tech gadgets, social engineering, psychology, actors and bizarre things from the internet. My everyday life is full of questions like: How do I get the players to put on the gas mask? Or: How do I best preserve brains?
How many Rooms have you already played and what room is your favorite room?
To be honest: Not many. About 10? But it will be more soon. I really love to play – and with our team we always visit competitors. Not because we want to annoy or copy them, but to get to know them. I think it's good when there are multiple escape room operators in a city. When guests have played all Team X escape rooms we always recommend them where to go next. Until then we can create new adventures for them to come back and play. We would love to have people play escape rooms as regularly as they go to concerts or theaters.
What makes your rooms different from other escape games and what are your plans for the future?
At Team X we totally focus on "adventure". This means that even our briefing is part of the game. Our players have to answer special questions, which will set their mood. Also each team is supervised by one personal game master, who will not give them preprogrammed hints, but will become an interactive  part of the game instead (in the library they even go into the room with the players). Except in The Killer we don't lock our guests up. Our missions are very different from just escaping. All our riddles are fun to do or surprising – and they are not too difficult. In contrast to the usual approach we want our guests to win. We think they should experience the whole adventure. Just like in a movie, where nobody likes to miss the end. Thanks to our game masters this happens only rarely. About 10-15% loose. Most make it just in time. 10-15% are really quick. And about 90-100% are very happy in the end. I hope these numbers won't change anytime soon. J
What do you think is the important part of an escape room design?
I think in the end there is only one thing that's most important in an escape room: It must be fun. I don't think the decoration or the technical stuff must be perfect. With so much complexity things are bound to go wrong sometimes. And as long as the room has a good atmosphere, the props don't have to be high end or expensive. I think the most important factor is still the tasks and riddles waiting for the team. Will they draw in the players? Even those who aren't fond of nerdy riddles and brainteasers? And if the players on their way also encounter some humor, excitement, surprises and maybe a cool showdown with a twist in the end, the room can't have been so bad after all.
In which direction will escape games evolve?
I think right now escape rooms are a very new form of entertainment, which is not even close to its full potential. In the future I'd like to explore further and try to develop rooms that will let players immerse even deeper in adventure. Larger groups, more exclusive settings, actors, roleplaying, advanced technology or just better knowledge about the psychology of the players to better control their focus, like it's done in movies. There is so much to discover. Also I think from little exclusive rooms to mobile escape games to artistic experiences or horror hotels up to mass organizers for huge evens there will be everything around. I don't believe in VR though. In the end it is still "just" VR and not real. Also it still makes me motion sick. But we would like to add some AR to our rooms.
What advice do you have for players?
Dare to delve into the adventure! The more you let go, the more exciting it will be. And come visit us in Cologne.
Website: www.teamx.koeln
Follow us on Facebook Escape Maniac @ Facebook.
Check out our last Behind the Door Interviews with Chris from The Room and Heiner from Berlin Escape.