[Im Test] Scooby-Doo: Escape from the Haunted Mansion
Lang, lang ist es her, da saßen wir am Wochenende Frühmorgens vor dem TV im Schlafanzug. Eine unserer absoluten Lieblingszeichentrickserien war damals Scooby-Doo. Die Deutsche Dogge Scooby-Doo, welche mit vier Freunden rätselhafte Geschehnisse und übernatürliche Phänomene löste.
Das klingt schon nach einem perfekten Setting für ein Escape Room Spiel. Daher haben wir es uns nicht nehmen lassen, das englischsprachige Escape Room Spiel Scooby-Doo: Escape from the Haunted Mansion auf den Tisch zu bringen und in Kindheitserinnerungen zu schwelgen. Lest hier unsere Review.
Scooby-Doo: Escape from the Haunted Mansion ist ein kooperatives Adventure / Escape Room Spiel für 2-5 Spielende und einer Spielzeit bis zu 4h.
Scooby-Doo: Escape from the Haunted Mansion versetzt uns geradewegs in eine Episode von Scooby-Doo. So haben wir mit dem berühmten Mystery Inc. Van eine Autopanne und als wir Hilfe suchen, landen wir natürlich mit Scooby, Shaggy, Daphne, Fred und Velma in einer verfluchten Villa. In dieser spukt angeblich der Geist der verstorbenen Lady Fairmont. Jedoch scheinen die Hausbewohner auch das ein oder andere Geheimnis zu haben.
Wie spielt sich Scooby-Doo: Escape from the Haunted Mansion?
Im Spielkarton finden sich diverse Hauskarten (welche immer wieder unterschiedliche Räume darstellen), verschiedene Umschläge (die im Spielverlauf geöffnete werden) und natürlich eine Spielfigur für jedes der Mystery Inc. Mitglieder.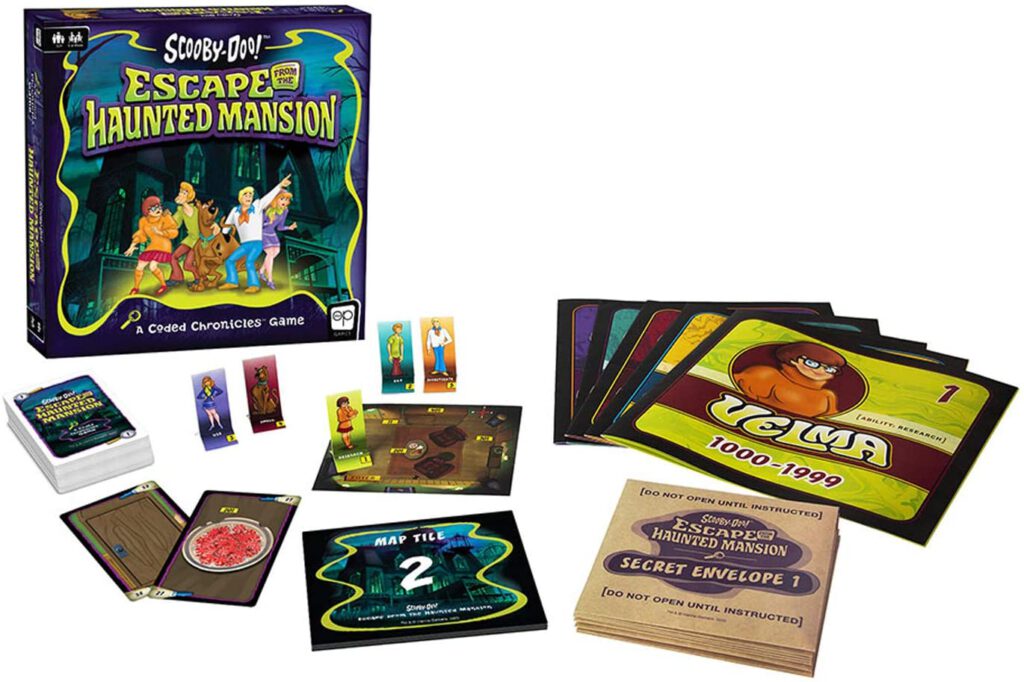 Zu Beginn entscheiden sich die Spielenden für eine oder mehrere Spielfiguren und erhalten jeweils ein Abenteuerheft.
Spielerisch erinnert das Spiel an die Adventure Games von Kosmos ergänzt um Escape Room typische Rätsel. Nach und nach erkunden wir die Räume mit unseren Spielfiguren und kombinieren abgedruckte Nummern auf diesen Raumkarten mit Scooby und Co. 
Der Clou an der ganzen Sache ist, dass jede Figur der Mystery Inc. eine spezielle Fähigkeit besitzt und so besondere Ereignisse auslösen kann. So besitzt, wenig überraschend, Scooby die Fähigkeit sehr gut zu riechen; Shaggy hat wie immer Hunger und kostet gerne alles was ihm unter die Finger kommt. Fred ist der, welcher am besten Gegenstände untersucht. Daphne kann Gegenstände nutzen und Velma erforschen.
Das Scooby Doo Feeling
So ist es notwendig die Orte und Gegenstände mit den verschiedenen Figuren zu erkunden und das Ergebnis in dem dazugehörigen Abenteuerheft des Charakters nachzulesen. Das Spiel entwickelt dadurch eine wirklich schöne Dynamik und die gut geschriebenen Texte tuen ihr übriges, um uns komplett in die Geschichte eintauchen zu lassen. Die Texte der Figuren sind passend zu den Charakteren verfasst und lassen uns an witzigen Dialogen teilhaben, sowie in Erinnerungen schwelgen. Scooby-Doo: Escape from the Haunted Mansion trifft zu jeder Zeit den richtigen Ton und lässt keinen Zweifel daran ein Scooby-Doo Abenteuer zu spielen.
Hier steht das Erleben ganz klar im Vordergrund und die Rätsel unterstützen die Geschichte. Richtige Kopfnüsse wird man hier nicht finden. Was auch völlig in Ordnung ist, denn umso schwerer die Rätsel, je mehr würde man am Ende aus dieser wirklich runden Geschichte gerissen werden. Jedoch wird hier eine abwechslungsreiche Bandbreite geboten.
Während des Spiels werden auch noch diverse Umschläge geöffnet, welche die ein oder andere Überraschung bereithalten.
Wie auch in einer Episode von Scooby-Doo ist der Hauptfokus darauf gerichtet, am Ende dem Geheimnis hinter dem Geist von Lady Fairmont auf die Schliche zu kommen.
FAZIT – Gebt uns mehr davon!
Scooby-Doo: Escape from the Haunted Mansion bietet ein rundum gelungenes Spielerlebnis. Selbst Mitspielende die Scooby-Doo bisher vielleicht nicht kannten, werden sich dem Charme der Mystery Inc. kaum entziehen können. Die Story könnte direkt als Vorlage für eine Scooby-Doo Episode dienen.
Eine weitere große Stärke des Spiels ist, dass wirklich Alle am Tisch involviert sind. Da eine oder mehrere Figuren von einer Person gespielt werden können und so immer wieder etwas neues entdeckt werden kann. Niemand sitzt daher einfach nur am Tisch und hat das Gefühl nichts beizutragen. Alle sind Teil der Scooby Gang. Einmal Teil der Geschichte, immer Teil der Geschichte.
Wir versprechen euch: Am Ende werdet ihr auf YouTube oder einem Streamingservice eurer Wahl noch eine Episode Scooby-Doo dranhängen und den Abend damit ausklingen lassen. Hoffentlich wird es noch eine Fortsetzung geben.
Scooby-Doo: Escape from the Haunted Mansion ist derzeit leider nur auf Englisch erhältlich. Lässt sich aber u.a. bei Amazon bestellen.
Keine Produkte gefunden.
Scooby Doo! Escape the Haunted Mansion
Letzte Aktualisierung am 6.05.2023 / Affiliate Links / Bilder von der Amazon Product Advertising API - Alle Amazon Links sind sind Amazon Affiliate Links. Werden Käufe über diese Links getätigt, erhält der Linkersteller eine Provision von Amazon. Der Preis für den Käufer (euch) ändert sich dadurch natürlich nicht.