[Review] Amelia's Secret – Escape in the Dark – Augmented Reality Escape Game
Dieser Beitrag ist auch verfügbar auf:

Deutsch (German)
Escape room games for the home have one big problem: They are not an escape room, because they tie us to the living or dining room table. Amelia's Secret from the French game publisher Blackrock Games tries to remedy the situation with augmented reality and turn our apartment into an Escape Room. Read here to find out whether they succeeded.
Amelia's Secret is an augmented reality escape room game for ages 12 and up for 1-4 players. It can be played in a 20-minute or 60-minute version.
What does Augmented Reality (AR) mean?
In comparison to virtual reality, AR takes place in a normal environment and expands it with digital information that is displayed at certain marked points. While an extra headset is required for virtual reality, a current cell phone or tablet is usually sufficient for AR.
How does Amelia's Secret work?
The included game material is quite manageable. In addition to instructions, the game comes with 15 square 16x16cm cards. We had to distribute these in our apartment or attach them to our walls according to the instructions on them. These cards serve as so-called AR markers and can then be filmed with the cell phone and tablet during the actual game. And this is where the digital magic begins for many.
To play Amelia's Secret, you need the corresponding app from the App Store of your choice. Once you have installed and opened the app, you have the option to play a short tutorial in the menu (this takes no longer than 5 minutes) or you can choose one of the mentioned game modes.
We decided to go for the 60 minutes variant.
The game begins!
In the app, we were presented with an atmospheric intro and introduced to the setting of a mysterious country house and its former residents.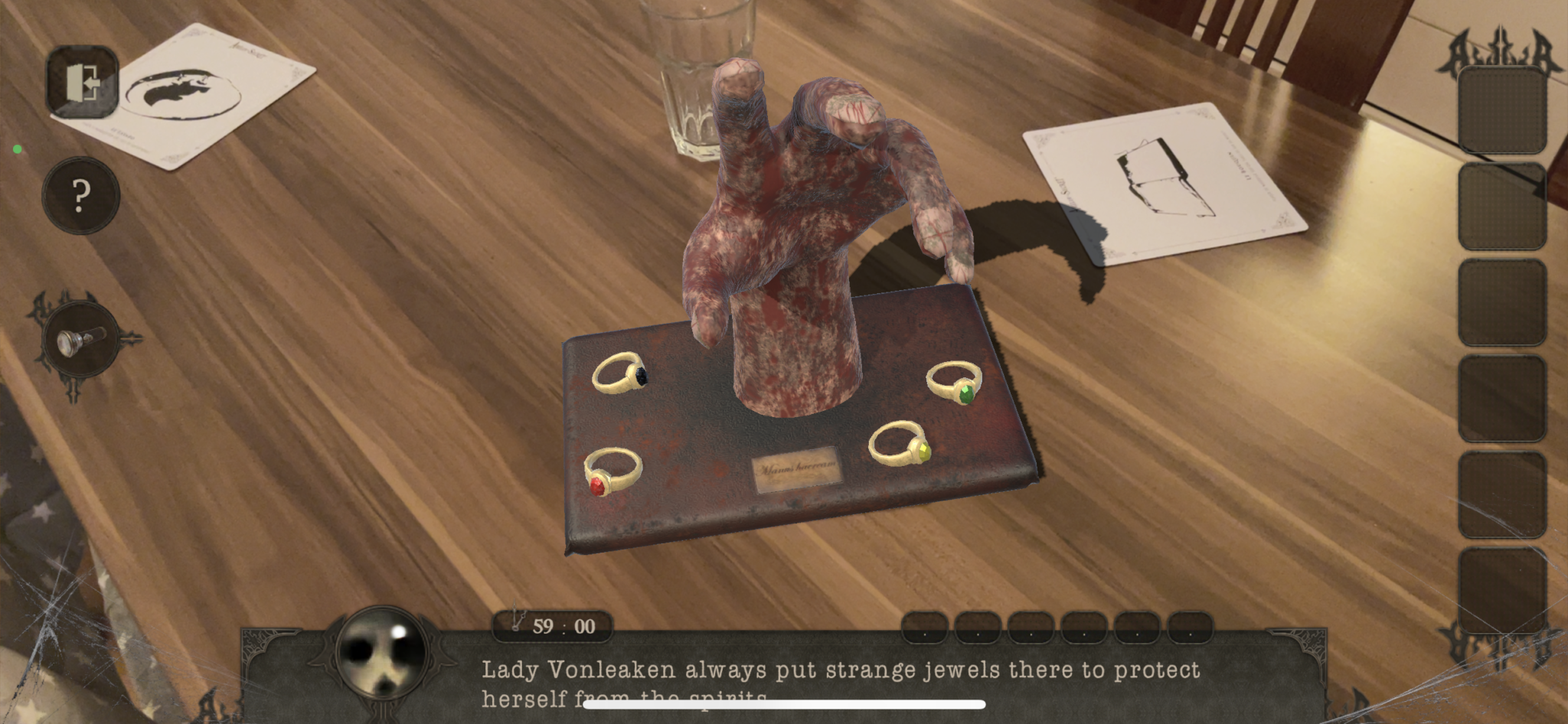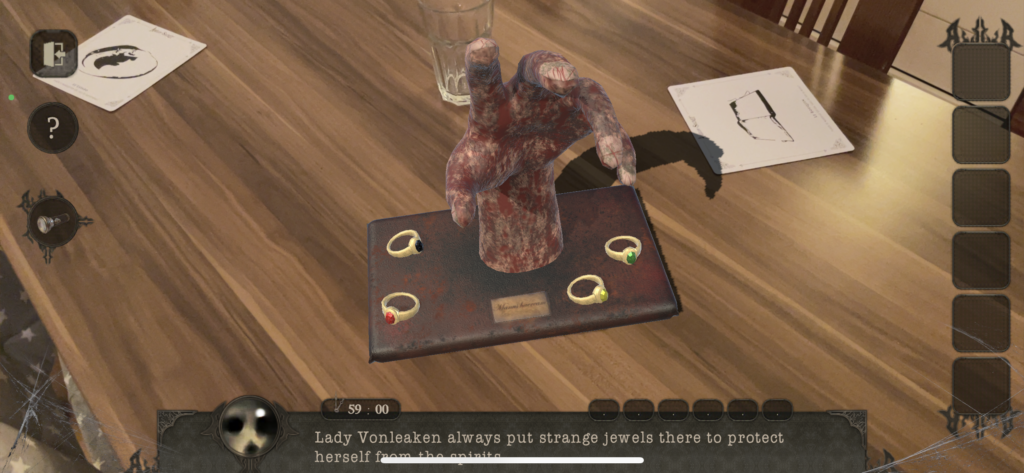 Our apartment now turned into this said country house through the attached AR markers by moving to the AR markers with our tablet. Suddenly, pictures, wall clocks or even a fireplace appeared on our walls when we looked at the display of our tablets. Just like in a real Escape Room, we moved through the room and examined objects, opened drawers, doors or lit candles in our apartment where there were none in reality. We were accompanied by an atmospheric soundtrack.
The graphic representation of the objects is good, but not outstanding. This is where the technology reaches its limits to reproduce reality. The handling was also not always quite optimal.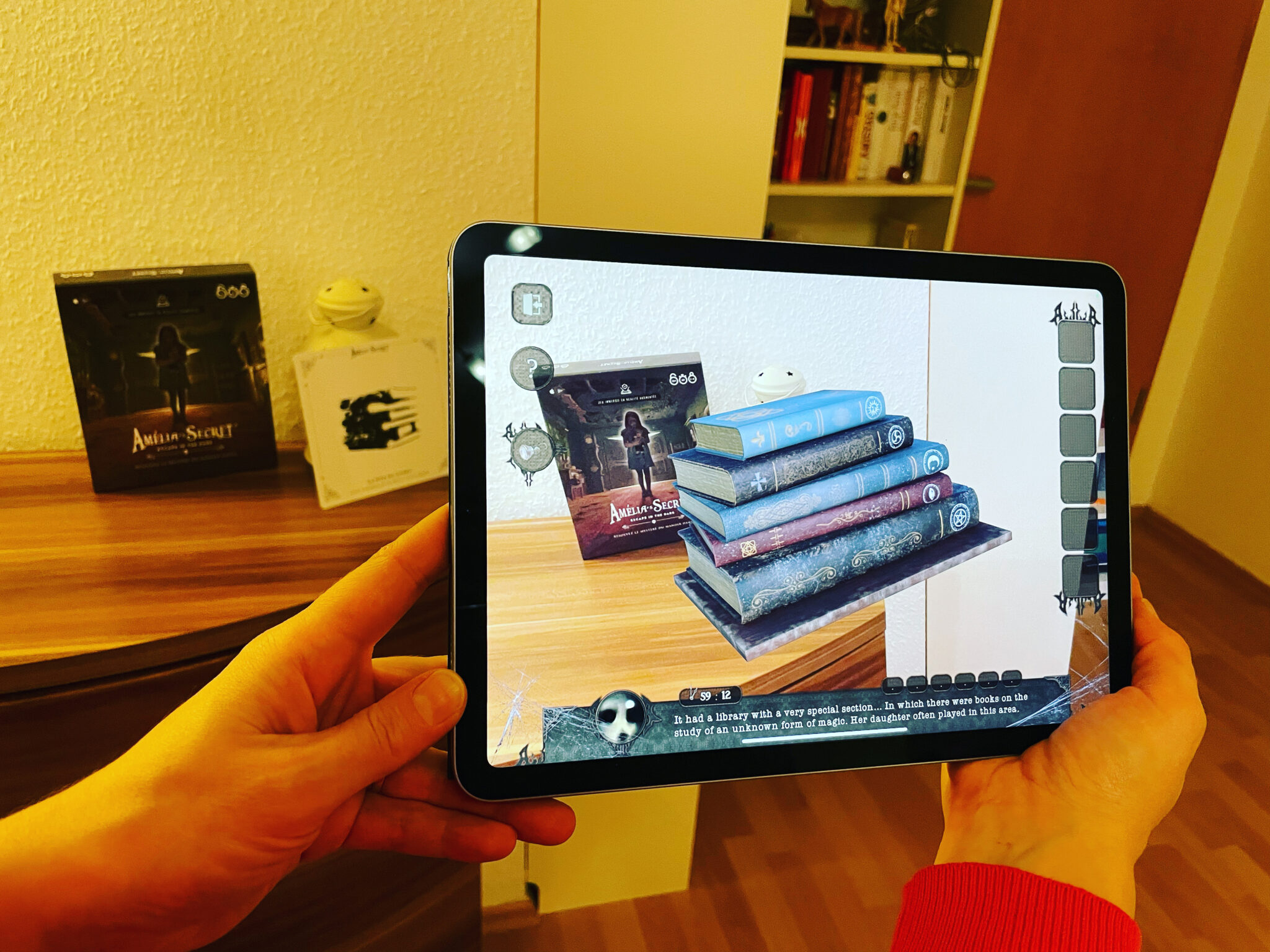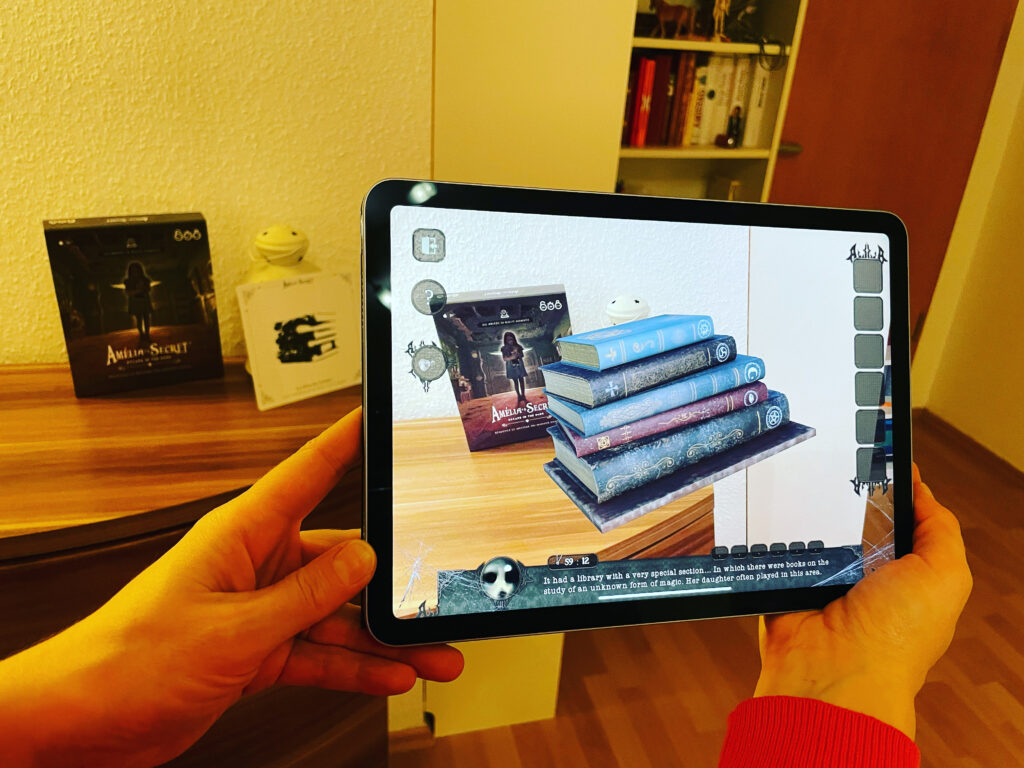 The puzzles are at the beginner level. For example, as many know, you have to find combinations of numbers, keys or other objects that you can combine with other things in the room. Sometimes the solutions were so obvious that we didn't suspect that this was actually the solution.
In the context of the actual story and setting, however, everything made sense so far. This made the game appropriately atmospheric and we were able to indulge in the illusion for the most part, even if we were carrying around a tablet or cell phone the whole time.
Conclusion
You can tell that Amelia's Secret was not necessarily developed by Escape Room professionals. The puzzles weren't always quite as smooth, and the storytelling wasn't always quite as well-rounded. Rather, Amelia's Secret is a first bold attempt to add a new facet to Escape Room games for the home. Certainly, AR elements already exist in the Unlock! game series, but never with the 100% consistency that Amelia's Secret has done so far.
All in all, we had a brief entertaining hour with this type of technology. Amelia's Secret allowed us to turn our own apartment into a spooky mansion without much preparation and see it from a whole new side.
At the moment, it is only available in English/French. The German version is planned for 2022 by Asmodee.
You can also test the game for free on the Amelia's Secret website.